The Helping Mothers Survive team traveled to Rwanda, Ethiopia, and Tanzania this summer to support the International Confederation of Midwives (ICM) to launch their 50, 000 Happy Birthdays project.  Working with country midwifery associations, educators and other partners, Jhpiego conducted Training of Trainers for Bleeding after Birth Complete (BABC) and Pre-Eclampsia & Eclampsia (PE&E) using the low-dose, high-frequency (LDHF) approach to learning. Below is a short summary of what we accomplished in each country.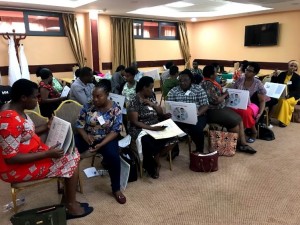 KIGALI, RWANDA (August 2018)
The HMS team worked with Jhpiego country staff in partnership with the Rwanda Association of Midwives (RAM). And 50K HBD project manager, Fidele Nkurunziza. We trained a total of 61 midwives, nurses, doctors, and clinical officers in both HMS BABC and HMS PE&E.  Of those trained in the first round, 10 were selected to be mentored while training their first group of participants.
ADDIS ABABA, ETHIOPIA (September 2018)Â  Â  Â  Â Â 
In Ethiopia, we built the capacity of a smaller group of trainers working with the Ethiopia Midwives Association (EMwA) and the project manager for 50K HBD, Tachawt Salilih.  Six were EMwA trainers for the 50K HBD project, one was a Dutch physician who was working in Northern Ethiopia, and one was a physician from Cameroonian M.D who will be implementing HMS in West Africa through UNFPA.
Six participants were mentored during their first training of 18 additional candidate trainers in HMS PE&E to start the scale-up of the 50K HBD project.
MWANZA & GEITA, TANZANIA (September/October 2018)
The HMS team worked with Jhpiego staff from the Boresha Afya (BA) project to train midwives from the Tanzania Midwives Association (TAMA) including Lucy Mabada, project manager of 50K HBD. For this event, 14 Master trainers were trained from the Geita, Tanga, and Katavi regions. Of the 14, five candidate trainers were mentored during their first training of 24 providers in Geita. In week 3, the newly mentored trainers offered training to begin rolling out HMS BABC and PE&E to all 132 Facilities in Geita and selected facilities in Tanga and Katavi regions.
Tags:
50K Happy Birthdays
ICM
training