Here is an uplifting story from our friends at Paul Carlson Partnership.  A team from several Congolese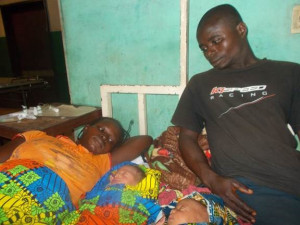 health organizations was evaluating clinics in DRC that PCP has supported.  When they arrived at Bomago Clinic they found 28 year old Madame Fanzawe Mbulusalo, who had just given birth to twins and was bleeding profusely. Immediately this woman and her babies were referred to the general hospital of Karawa, which is 18 kilometers away.
At the hospital, the Karawa maternity ward nurses, who had been trained in HMS BAB in December 2017, received the woman. They discovered that the bleeding was due to a retained placenta. Dr. Deambi performed manual removal of the placenta to stop the bleeding. Today Madame Fanzawe and her twins are doing well. Her husband, Mr. Nako, is very happy, too! He expressed his gratitude to everyone for taking care of his family.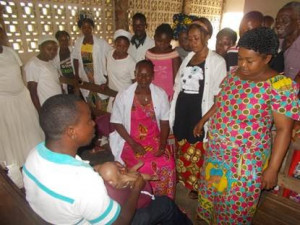 Because of the "train the trainer" approach used by Paul Carlson Partnership, those trained in 2017 used the knowledge and skills received in the training to train 37 more Congolese nurses in HMS BAB and HMS PE&E spreading life-saving skills even further. For more information about this story and the Paul Carlson Partnership please visit: https://www.paulcarlson.org/2018/05/11290/